You Want to Stop Smoking For Good? Breathe Easier. Feel Better. Feel Younger & Healthier! Save Money!
Print This Page
NOTE:

QuitRoom will be on annual leave from 1st May 2012 to 30th June 2012. We will resume providing service from Monday 2nd July 2012.
Stop Smoking EASILY

without

taking drugs and

without

gaining weight!
You know you want to quit smoking.
That is why you are reading this.
You have probably tried too many times.
How wonderful will you feel when the habit of smoking is over?

Make This The Time When You Finally Stop Smoking For Good
The freedom and sense of well-being that you will experience when you stop smoking now, and for good, is beyond measure. The health risks for smokers are well documented so need no further comment here.
Stop Smoking Now With Help From Hypnosis And NLP
By the time you have reached this point in your life you have probably tried many times to quit smoking.
You have tried:
Willpower
Patches
Gum
Inhalers
A very small number succeed in stopping smoking using the methods above, however, now there is an alternative.
Hypnosis utilises the vast power of your unconscious resources to help you terminate unwanted habits, and one of its most publicised is its ability to get people to quit smoking cigarettes. While NLP assists you, with its extremely powerful tools and techniques, in creating lasting transformation.
Hypnosis has been scientifically proven as the most effective method to stop smoking. Here's the report from a study published back in 2000 that compares hypnosis to other methods.  Read the document and decide for yourself.
How This Program Works
The program is custom tailored to YOU as an individual.
You're quitting for your own reasons.
Your personal motivation and attitude will determine your success.
The program addresses your individual associations/triggers or situation when you are most likely to reach for a cigarette, strengthens your motivation or reasons why you want to quit smoking, and helps you change the way you think and feel about smoking.
As a smoker you have all those associations/triggers that automatically remind you of smoking such as:
Cigarette before bed
Cigarette after meal
Cigarette with coffee
Cigarette with alcohol
Cigarette during work breaks
The way the program works is to break those associations so that these actions or situations do not remind you of smoking anymore.
We strengthen your motivation or all the reasons for which you decided to quit smoking.
We change how you feel and think about smoking, so when you do see someone else smoking or someone reminds you of the fact that you quit that you no longer think about smoking in a way that is appealing to you.  The way we achieve that is by helping you focus on the benefits and on what you are gaining and not on what you are giving up.  And that means:
freedom,
feeling better,
breathing easier,
being a better role-model for your kids….
Whatever you motivation is we want you to focus on what you are gaining by quitting smoking, because when you think about in that way – it is easy!
You have nothing to give up and everything to gain!
Are Fears Holding You Back?
Fear that you'll have to give up your pleasure.
Fear that you won't be able to handle stress.
Fear that you will put on weight.
Fear that you'll never get completely free of the craving.
The answer is that this program addresses all of those fears, and gives you the tools to not only become a non-smoker, but to do so easily.
The Ocean's Twelve Guy Did It, And So Can You!
Thousands of people have used hypnosis to quit smoking. Matt Damon quit using hypnosis and said afterwards: "It's amazing I didn't even want cigarettes anymore". Watch the YouTube video below: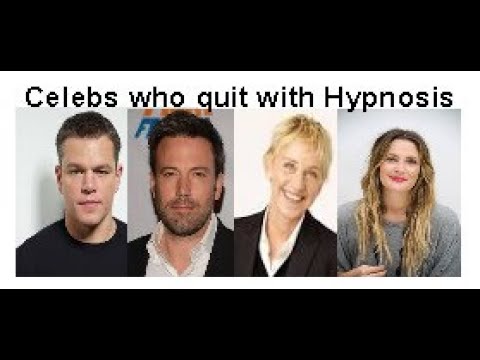 Ellen DeGeneres Did It, And So Can You!
Ellen DeGeneres spoke on her TV show about how she quit smoking with hypnosis. Ellen was so grateful that she said: "You've helped me tremendously and probably saved my life". Watch the YouTube video below:

Can You Afford To Keep Smoking?
It doesn't really seem like much to spend $12 on a pack, but take a look at how it quickly adds up.  This is your monthly cost, based on a 20 cigarettes $12 a pack.
Remember, this is just the cost of buying cigarettes without the additional cost of increased medical and dental bills, insurance premiums, and so on.
But there's a beautiful flip side to that coin.  Think about how much you'll immediately begin to SAVE as soon as you quit, or how much more comfortable you'll be financially in three years… five years… or ten years… just from making this one change. *The 10 year savings are calculated based on a 20 cigarettes $12 pack, and do not include frequent price raises.
How much will this cost?
The average smoker now spends between $360-$620 per month on smoking cigarettes.  The investment for your quit smoking program is $299. This program will pay for itself very, very quickly.
Get On The Path To Freedom Today
Call Now 1300 199 775 to make a booking.  Before you know it, you'll be FREE.  The only regret you'll have is that you didn't make the DECISION sooner.